There's no doubt that the Super Bowl is possibly one of, if not, the most anticipated events every year in North America. Due to the popularity of football on both the collegiate and professional level, it's no wonder why marketing professionals willingly invest millions of dollars in television advertising and promotion. However, despite all the commercialization behind the big event, some of the most impressive promotional activities and statistics this year originated from social media channels.
Oreo Capitalizes on the Power Outage
Right after it seemed like the Ravens were in complete control of the game, a power outage occurred and halted their momentum, something the 49ers couldn't figure out how to do throughout the first half. However, one Oreo employee acted quickly and shared the image below via social network, creating a buzz for the brand during the game's downtime. Quick thinking such as this illustrates how big brands need to be able to think on their feet and capitalize on real-time events to increase fan engagement on their social media communities.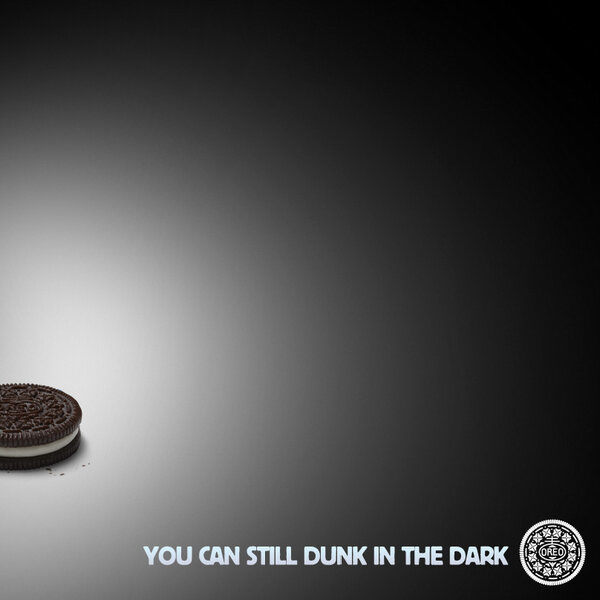 2013 Total Social Media Activity Through the Roof
As  as exhibited in an infographic prepared by Trendrr.TV, the total activity during the game was three times higher than it was a year ago. This was a result of multiple highlights throughout the game, such as Jacoby Jones' historic kickoff return, Beyonce's half-time show, and the outrageous power outage that halted the game for a good 34 minutes. In fact, Beyonce's half time show generated the most activity on social networks, capturing mentions on Facebook, Twitter, Instagram, and other outlets.
Twitter Reigns Supreme
There was no doubt that Twitter was the most popular social network for this event. Due to the simplicity of pushing out multiple tweets every minute, it was no surprise to see that Twitter's official report stated that there were over 24.1 million tweets relating to the Super Bowl and half-time show. Key "TPM" (Tweets per minute) stats include:
183,000 TPM for the end of the game.
185,000 TPM for Jacoby Jones' kickoff return TD.
231,500 TPM for the power outage.
268,000 TPM for the conclusion of Beyonce's halftime show.
Outlook for the Future
Promotion via social media channels is becoming more ubiquitous as each day passes by, signalling a change in how brands allocate their marketing budgets. With users becoming more comfortable interacting on the Facebooks and Twitters of the Internet, it's essential for brands to not only have active social media communities, but to engage them with intriguing content on a continuous basis. Taking the initiative like Oreo did will increase top of mind awareness and leave a positive impression on your audience.